STOUFFVILLE
Event Sponsorship>
The Town of Whitchurch-Stouffville proudly presents the Stouffville Celebrates program, which includes events hosted by the Whitchurch-Stouffville Museum, the 19 on the Park Theatre and our Events Team.
Stouffville Celebrates events represent a wide range of programming from historical and heritage events to live music and performances to large multi-day festivals. All of these events share the common goal of showcasing our beautiful town and providing an opportunity for residents and visitors to celebrate our community.
The Town's 'Stouffville Celebrates' feature event, the Stouffville Holiday Market is the recipient of two Festivals and Events Ontario (FEO) Awards!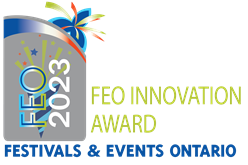 We invite you to partner with us for our Holiday Series. This series features 5 signature events, attracting more than 55,000 visitors. Review all the marketing opportunities available to reach the residents of Stouffville in the Sponsorship Package, which can be customized to meet your marketing needs. 
Forest Group 
Pine Valley Corporation 
RICE Group 
Schell Lumber Home Building Centre 
Tim Hortons 
Times Group 
Treasure Hill 
Trentadue Torres Group 

>
Jully Black at Ribfest 2022

>
Stouffville Santa Claus Parade 2022

>
Movies in the Park 2022